May 29th, 2013 Keeppy.com launches out of Beta
First-of-its-Kind Social Network Changes the Social Landscape for Researchers, Creative Minds and Storytellers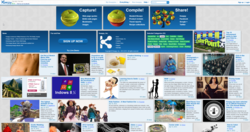 For years, there's been a sever gap in the market for those who want to share stories about personal experiences or share professional research with people but don't want to start a blog
SAN JOSE, CA (PRWEB) May 29, 2013
Keeppy (http://www.Keeppy.com), a new social network for storytelling that encourages people to capture, compile and share all types of information without the need of a traditional blog or complicated information-saving program, today announces that it's officially launching out of beta. Today, anyone who wants to capture information, pictures, and other assets found on the Internet can do so through Keeppy.com.
Keeppy was originally conceptualized for people who don't want to start a blog but still want to capture, keep, edit, and or share personal information or information that lives on the Web. Whether the compiled information is shared solely with friends or distributed through other public social networks, students, teachers, researchers, creative minds and storytellers can benefit from the social networking and online information-gathering power offered through the Keeppy system.
"For years, there's been a sever gap in the market for those who want to share stories about personal experiences or share professional research with people but don't want to start a blog," said Alexey Goder, Co-Founder and CEO of Keeppy. "We decided to build a tool that would close the gap and allow people to gather and capture information for storytelling or personal use through one simple, intuitive system. Additionally, as our user base grows and more Keeppies are developed, we imagine our system being an easy-to-use database for researchers who want to go to one central spot on the Internet to find information on topics they care about."
In order for users to get the most out of Keeppy, the best way to do so is to create "online documents" that compile information on a particular area of interest. Keeppy is easy to use and can be used for multiple purposes, be it personal and or professional. In the future the founders of Keeppy hope to add functionality and storage for people who want to incorporate movies or videos.
"Launching out of beta is the first of many steps we hope to take for our company," said Michael Kovler, Co-Founder and CTO of Keeppy. "We're looking forward to growing our user base and learning more from our users about what functions they like and want to see more of. Our next step is to secure another round of funding sometime in early 2013 to grow our team and expand our service offering into mobile devices."
All News