Whether you come by your sweet tooth naturally, suddenly find your pants slipping southward from too much road grub, or just can't face another plate of mystery meat, desserts on the road are a great way to get to know a country's culinary culture. Whether fussy, sticky, squishy, crunchy or altogether unexpected, a trip down to the local konditory, patisserie or sweets shop will have you smacking your lips and reaching for your toothbrush.
Here are some must-try sweets from around the world. So get out there and get tasting.
Alfajores
(Chile, Bolivia, Argentina, Uruguay, Mexico, other Latin American countries, via Spain)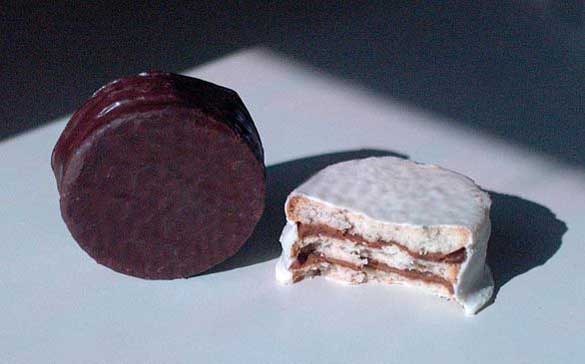 Alfajores in their many varieties can be found in South and Central America, and also still in Spain. Etymology suggests that they're from the Arab world, though most now consider these to be squarely (roundly?) Latin American. They're shortbread or cakey cookies pressed together over a filling of dulce de leche, or milk caramel. Sometimes they're rolled in shredded coconut or covered in dark or white chocolate, or coated in meringue. Pictured here are triple-deckers, for your munching pleasure. These are found at bakeries and mass-produced in convenience stores and newsstands.
Semla
(Sweden and similar in Norway, Denmark, Finland and Estonia)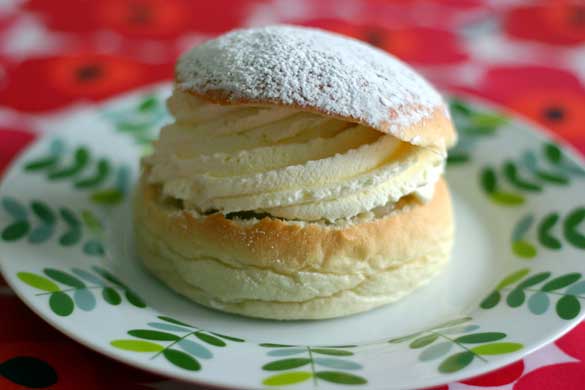 Swedes are famous for fika, or an afternoon break at which coffee and pastries are served. If you time your visit to Sweden just right, you'll be there to sample the famous semla, available in bakeries between Christmas and Easter. These are bun-like pastries, which have their insides scooped out and traditionally stuffed with the filling, milk, and almond paste and topped with whipped cream, but which have recently been popping up (at least in one friend's kitchen) in chocolate and mocha varieties.
Sfogliatelle/Cannoli
(Italy)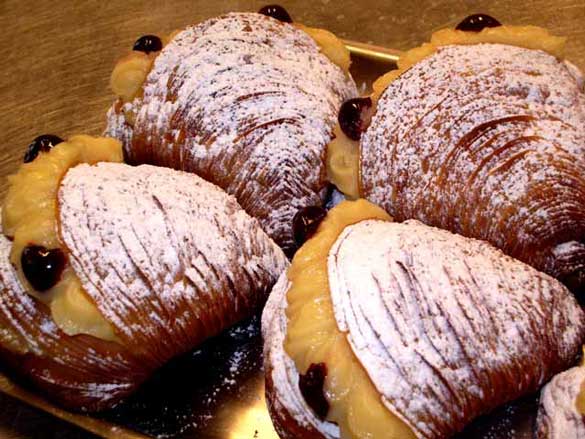 The sfogiatelle's better known cannoli cousin is going to have to step to the side for just a moment. This clamshell-shaped layered dough (think of a thicker phyllo) is baked, split open and stuffed with cream or a ricotta-based lemon or orange-infused filling for a delectable treat that's probably not on your doctor's list of recommended snacks. Luckily your doctor didn't come on vacation with you. A mangiare!
Taiyaki
(Japan)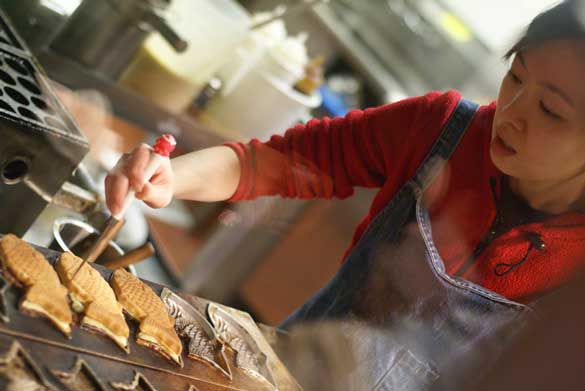 A little waffle-like fish-shaped pastry filled with a sweet red bean paste can take the chill out on a cold day, or keep the munchies at bay until you find the perfect place for lunch while walking the populated streets of any street festival or market. Watching taiyaki be freshly made in cast-iron griddles can take up the better part of your nibble time, which means you'll be able to plunk down some more yen to buy a second one. If you can't find the "baked sea bream" (as taiyaki means in Japanese) console yourself with imagawayaki, a round cake made in different molds, but which tastes the same.
Sopaipillas/Picarones
(Chile, Peru)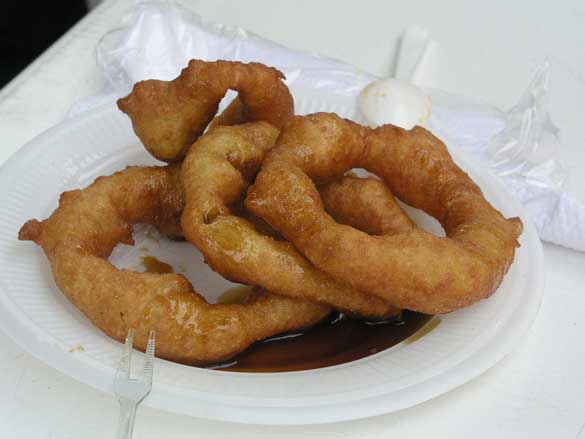 The antidote to a rainy day in Chile or Peruis is sopaipillas pasadas, a fried disk of dough plunged into a warm molassesy sauce made of chancaca, a solid brown sugar derived from sugar cane. If you can't find sopaipillas, it may be because they're selling picarones instead. These are sweet fried rings of a similar dough, which sometimes has a yellow squash incorporated into it (not that you'd notice). If you do the math you'll see that picarones have more surface area to soak up the sauce. We're just saying.
Koeksisters
(South Africa via Cape Malay)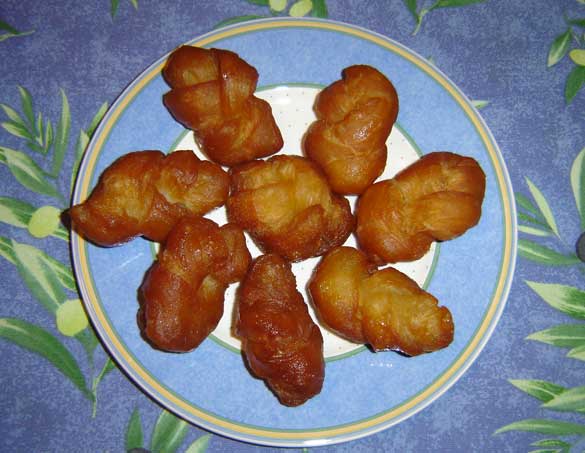 Koeksister/Koeksuster/Cooksisters are a South African after-school snack, which can look like bowties, braids (plaits in local parlance) or in sloppy hands, little blobs. They're fried and plunged into a cold simple syrup, which keeps them from getting mushy. They're sticky and addictive, and if you're lucky, slightly ginger-flavored.
Tres Leches Cake
(Mexico, other countries in Central and South America)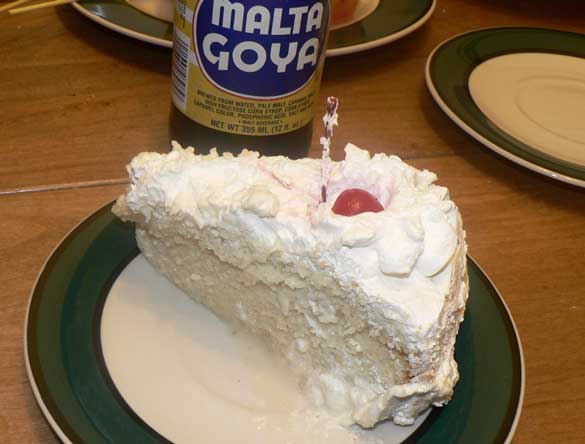 A good piece of Mexican tres leches cake (so named for the three ways that milk is incorporated into the recipe, condensed, evaporated and as cream) is neither dry nor mushy. It shouldn't have a pool of condensed milk below it, and should be tall enough so that the milk hasn't percolated all the way up. It tastes mainly of yellow cake and milk, and tends to be very sweet. It's perfect accompaniment to a strong cup of coffee and a long walk afterwards.
Suspiro Limeño
(Peru)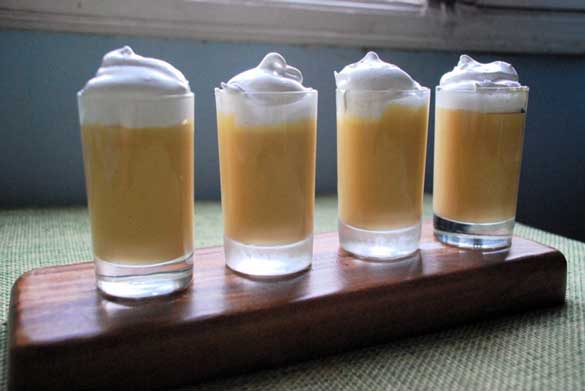 The Peruvian dessert of suspiro limeño/suspiro limeño/surpiro de limeña might just make you sigh, as the name suggests (suspiro means sigh in Spanish). This slow-cooked concoction of evaporated milk, condensed milk, egg yolks and sugar is as smooth as butter, and will make you hate every pudding you've ever tasted before. It's topped off with meringue for a total sweet overload. There's a reason it's usually served in a relatively small dish.
Sernik
(Poland)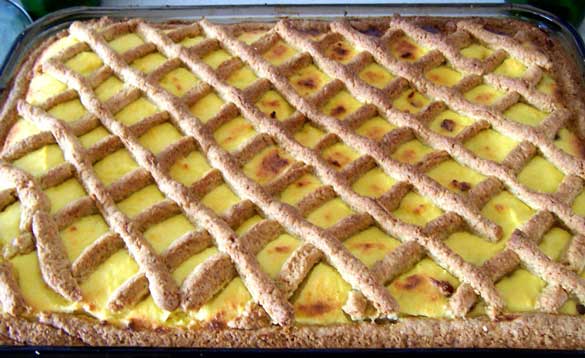 In Poland, if you haven't come across a good babka, that marbley bready coffee cake of Seinfeld fame or the jam-filled cookies called kolaches (thumbprint cookies on your Christmas cookie-exchange), then you might opt to stop for a slice of sernik, a tasty Polish version of cheesecake, made with twarag cheese, and occasionally potatoes. It's covered with a latticed top, and makes a great afternoon snack.
Tangyuan/ Yuanxiao
(China, Taiwan)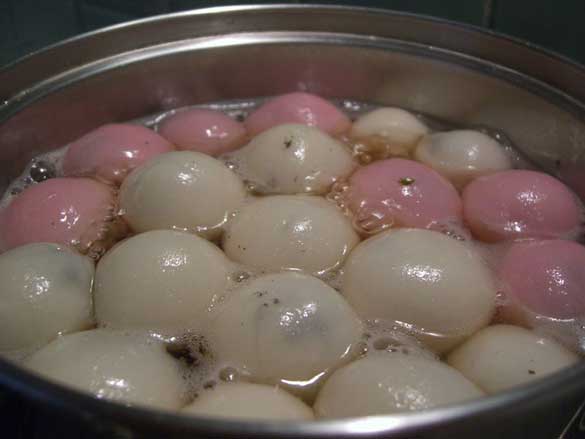 Don't go to China in search of fortune cookies, these having been invented in the west. Finish up your meal here, particularly during the lantern festival, with pastel-colored tangyaun or yuanxiao (from the various parts of China), a little starchy sweet dumpling made from a dough of glutinous rice flour and hot water, filled with sesame paste, adzuki bean paste or other sweet fillings. This is served in a small bowl along with some of the water in which it was cooked.
Brigadeiro
(Brazil)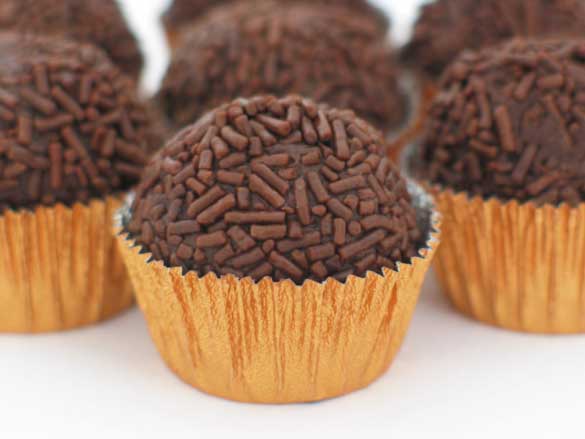 No Brazilian child's aniversario (birthday celebration) would be complete without the delectable and gooey brigadeiro, little balls of fudgey caramel, rolled in chocolate sprinkles, and served in a tiny fluted paper cup. Brigadeiro-inspired cakes and icecream have sprung up, but if your teeth don't ache, you haven't had the real deal. They're also sold in pastry shops and on the street, so if you haven't been invited to a birthday party, you're not out of luck.
Khao Niaw Ma Muang (mango and sticky rice)
(Thailand)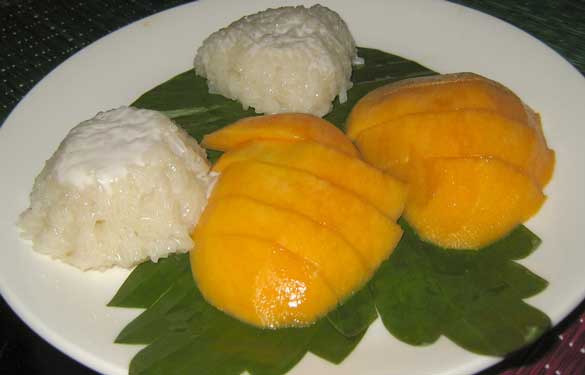 As a meal-ender for the complex flavors of Thai food, this can't be beat. The rice is simmered in coconut milk until it is soft and glutinous, and served beside or beneath fresh mango. And since it has fruit, you can include it in your five-a-day for fruits and veggies.